Biography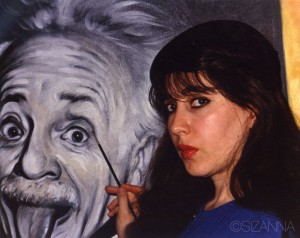 Sizanna Janashvili (officially, Susan Janas Kriheli), Georgian born American artist has been living in New York City for 35 years. She was born in the capital city of Georgia in 1954. Her father, Mordechai (Misha) Janashvili was a renown painter. Sizanna is a graduate from Y.A.I. Nikoladze Art School of Tbilisi where she was in the top 5% of the class of 1973. She attended Parsons School of Design in New York City in 1979-1980 as a special academic student in the Fine Art Department to associate herself American Art.
Her work has been exhibited in solo and group exhibitions in New York, New Jersey, Israel and the Republic of Georgia. Sizanna's works are represented in many private collections in the United States, Switzerland, Georgia and Israel.
Sizanna's reputable service and exceptional output has been well received by the public and earned her celebrity clientele as well. Some of the notable celebrities are the late Tejano musician Selena Quintanilla and Latin recording artist Luis Miguel (both works have made the cover of a national Hispanic art publication: Osmus).
She was commissioned portraits by a well known and prominent family, Adele & R. Brinkley Smithers (patrons of the Smithers Drug & Alcohol Rehabilitation Center). This work is prominently displayed in their foundation. Yet another portrait of great compose Eubie Blake is displayed in Forest Hills High School in Queens, New York. In 1997, Sizanna was invited by Georgia's first lady, Nanuly Shevardnadze, to do a charity exhibition for an International Society "Women of Georgia for Peace and Life."
Her work is in the permanent collection of President Edvard Shevardnadze's Foundation "Democracy and Revival," also in the foundation "Women of Georgia for Peace and Life."
In the past few years, Sizanna worked with great enthusiasm on a portrait series which made covers of several books, magazines and newspapers.